Studying and then?
"I am more interested in the future than in the past, because I intend to live in it." (A. Einstein)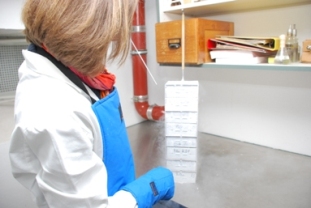 In order for Germany to remain economically competitive, qualified specialists are needed, especially in the fields of science, research and technology. This means that graduates from the MINT sector have very good chances on the job market. The number of MINT workers is rising.

A broad spectrum of specialist knowledge is in demand. Qualifications are also needed that combine several skills, such as biomathematics, bioinformatics or environmental sciences. However, specialisations are also important. About 200 years ago, it was possible to be a chemist, physicist and physician at the same time. Today, an incredible amount is known and more knowledge is added every day. In addition, specialist areas can also be interdependent. For example, biologists and physicians need computer scientists and mathematicians. Specialisation and cooperation are becoming increasingly important.
Research and development training is constantly opening up new occupational fields that are still unknown today. International and national career opportunities are opening up, especially in Mecklenburg-Vorpommern.
Examples of MINT employers in MV
We have researched a few MINT companies in MV for you. Of course the world is open to you with a MINT degree, but competent graduates are also sought and needed in MV. And you will live where others go on holiday.
Of course, the list does not claim to be complete. New opportunities and future perspectives are constantly emerging.